Archive for October, 2010
October 18th, 2010
Posted in
Industry News
,
Mac Software
,
Windows Software
In September 2010, Steve Jobs announced the second-generation version of the Apple TV. While this could easily remind us another sounded similar product- Google TV, which was released on the Google I/O 2010 on May 19th, 2010. What is the difference between Apple TV and Google TV? Now I will make a comparison.
Actually, the two TVs are totally different products with different design concept. Google TV is designed to turn your HDTV to a widescreen multimedia computer, which allows you to surf the Internet on your TV. This design concept corresponds to Google identity– an Internet enterprise. While, Apple tries to avoid making TV become another computer in the family. The company only wants to make it simple to enjoy video, audio and photo on TV.
Google TV is an entertainment platform, which could be a set-top box – Logitech Revue or be pre-installed on TV- Sony Internet TV GT1. The built-in Chrome browser brings the web to your TV. With the keyboard, you could browse the entire web on your HDTV, such as YouTube, Google Search, Hulu, Facebook, etc. Then you could enjoy the YouTube video and online photo on your widescreen HDTV. Moreover, Google TV is based on the Android, which means it this web platform could apply numerous Android apps. For example, the Logitech TV Cam enables you to make a HD video call with others who have a free Logitech Vid account.
Apple TV is all about screaming. Users could get instant access to the classic and up-to-the-minute movies and TV shows from iTunes store. Beside of iTunes store, Apple TV also enables you to rent movie from Netflix. Also it supports YouTube and Flickr. You can browse and play YouTube videos, watch your favorite photo in Flickr, and listen to Internet radio, etc. Of course, you can enjoy the local movies, songs and photos in your computer through connecting Apple TV to the family networking. More excitingly, the upcoming iOS 4.2 will supports Airplay function. Users can stream music, photos, and video that you are playing on your iPhone, iPad, and iPod touch to Apple TV directly.
33 Comments
October 16th, 2010
Posted in
Mac Software
,
Tips & Guide
,
Windows Software
People want to show their individuality anytime and anywhere with their inimitable hairstyle, clothing, and other things. Your phone's ringtone is also really important to show your difference from others. So  how to make your own unique ringtone for your incoming calls, clock alarms, clock timer becomes a really important thing.
Today I will show you how to make your own iPhone ringtones from your DVD/video/music with Aiseesoft iPhone Ringtone Maker. Someone will say that you can buy them on itunes. Yes, everybody can buy it. It is not unique and special. Let's make our own iPhone ringtone together.
Things you need:
1. DVD/video/audio files that contains the music you want
2. iPhone Ringtone Maker
3. Computer(Windows/Mac)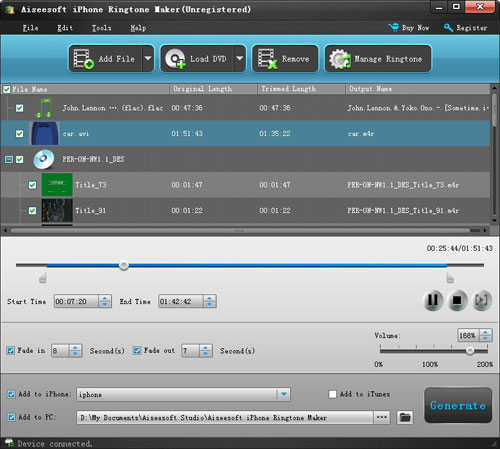 Step 1: Load File/DVD
Load your video/audio files or DVD to this iPhone Ringtone Maker.
Step 2: Choose music
You need to choose which part you want to convert as your iPhone ringtone or you want to make the whole files as your iPhone ringtone. Just drag the bar to set the begin point and end point.
Step 3: Pre-listening
You can pre-listening the ringtone, if you do not like it you can adjust the length of your ringtone.
Step 4: Make Ringtone
After you have done all the tings above, you can click "Generate" button to start the conversion.
Soon you will get your own ringtone.
Tips:
1. if you want to put your ringtone directly to your iPhone, please check the box before "import to iPhone".
2. if you want to manage your ringtone, you can click "manage ringtone" button to do it easily.
For Mac users, you can use iPhone Ringtone Maker for Mac to do this easily with the same operation as windows one.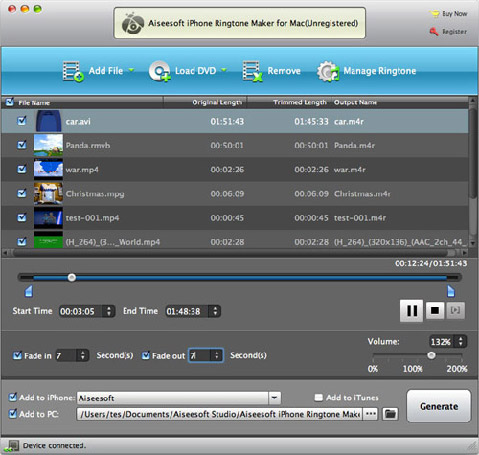 Download Aiseesoft iPhone Ringtone Maker here:
For Windows Users: http://www.aiseesoft.com/iphone-ringtone-maker.html
For Mac Users: http://www.aiseesoft.com/iphone-ringtone-maker-for-mac.html
66 Comments
October 13th, 2010
Posted in
Video Software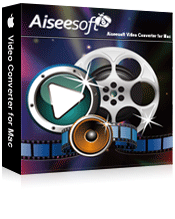 Latest Version: 3.3.16
Full Size: 10444 KB
Release Date: Oct 2, 2010
Download Here:  Video Converter for Mac

Key Features of Aiseesoft Video Converter for Mac:
1. Convert almost all videos to the video format you want on Mac
MP4, WMV, AVI, MOV, VOB, Mpeg, 3GP, MOD, Mts, FLV and so on.
2. Working as a Mac audio converter
Extract audio file from Video and convert to any audio format you want.
3. Perfectly supports iPod/iPhone/iPad/PSP/Mobile Phones
4. Video Editing Functions
Trim, Crop, Merge, Add Water mark, Snapshot and so on
5. Customize output parameters
Adjust output Video Encoder, Resolution, Frame Rate, Video Bitrate, Audio Encoder, Sample Rate, Channels, Audio Bitrate.
For More info please go to:  Mac Video Converter

5 Comments