Posts Tagged 'ipad converter'
February 1st, 2011
Posted in
Apple News
,
Company News
,
Industry News
,
Video Software
,
Windows Software
According to the latest states, Apple's manufacturing partners will begin producing iPad 2 next month. And the iPad production will start for small numbers initially, and then expand afterwards.
Apple will reportedly keep Foxconn as its largest manufacturing partner while Pegatron and Apple's other typical suppliers will still play a vital role in the tablet's manufacturing process.
Producing iPad 2 since February will give Apple adequate time to prepare enough iPads for launch. Current estimates for the official iPad 2 launch are for April.
Are you planning on getting the new iPad when it's available?
Now Aiseesoft is preparing iPad 2 Video Converter for consumers. This iPad 2 Video Converter will be the best assistant to iPad 2. It can conveniently convert any popular video and audio files to iPad 2 compatible formats. Also this iPad 2 Video Converter will provide users with powerful video editing functions, such as trimming video length, cropping video frame, joining videos together, watermarking video and adjusting video effect.
Aiseesoft iPad 2 Video Converter will satisfy all needs on multimedia processing. It can bring you fantastic experience of enjoying movies and music with iPad.
No Comments
January 21st, 2011
Posted in
Tips & Guide
,
Video Software
,
Windows Software
From the day iPad released, it has  won the reputation of the best tablet PC. And this reputation has been proved by the popularity and sales volume. People enjoy themselves with iPad, reading, playing games, writing, chatting and so on. iPad users can also watch videos on iPad. The following guide/tips is about how to convert .mov video files to iPad supported one.
Now download the Aiseesoft iPad Video Converter, install and run the software. And you will see the main screen.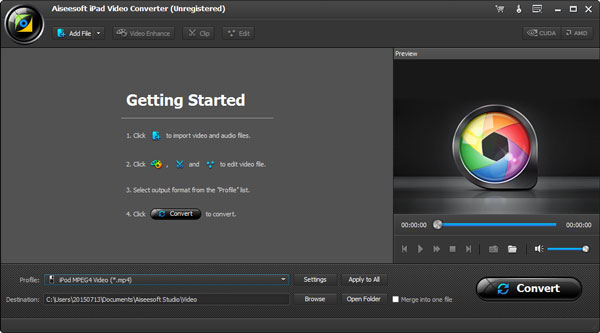 Step 1: Add files before MOV to iPad conversion
Before starting converting, add the target MOV file by clicking the "Add File"

button.
Step 2: Choose profile, destination and settings.
You are allowed to select the audio track and subtitle for your output video. Then choose the output format from the list by clicking the drop down arrow. Click "Browse" button to choose the destination file to place the output file.

Then you can adjust some further settings by clicking the "Settings" button. From the screen below, we can see that video Encoder, frame rate, audio Channels and more parameters are able to be adjusted.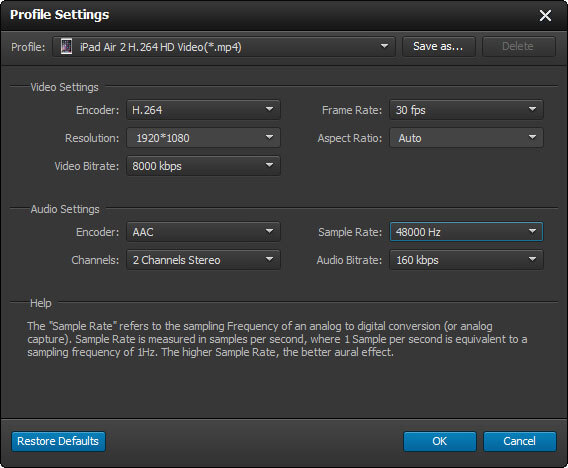 Moreover, this video editor also provides you with powerful editing functions. It allows you to trim video, crop play area, capture the picture…
Click the "Effect" button and you can see this interface.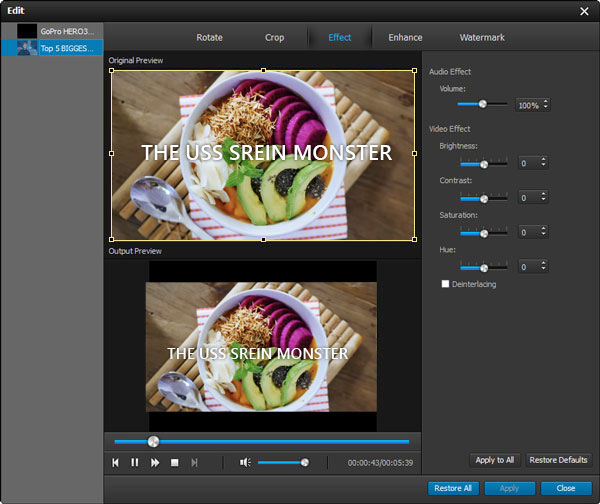 Then you can adjust the brightness, contrast and saturation through dragging the slide bar. Also it can help you to convert an interlaced video to a progressive one by checking the "Deinterlacing".
Also there are other editing functions in this video editor for you to explore.
Step 3: Click Convert to Start the Conversion.
Soon you will get your iPad supported videos with high quality.
No Comments
December 30th, 2010
Posted in
Industry News
,
ipod software
As the 2011 is coming, rumors about the new iPad 2 appears everywhere on the internet. Though have no Apple's official response, most people believe that the iPad 2 would be revealed in first half of this year.
There is evidence that about two-thirds of Apple's iPad shipments feature 3G connectivity. While those who own an iPad with 3G can connect only to AT&T's 3G network for the present. If consumers want to connect to Verizon's network, they should need the assistance of the MiFi 2200 Hotspot for Web access. So Apple has a good reason for more 3G connectivity options.
According to DigiTimes, Apple is working on three versions of the iPad 2. One model of iPad 2 will feature Wi-Fi only; while another will provide UMTS (Universal Mobile Telecommunications System), which is a 3G technology used by AT&T and T-Mobile in the US, connectivity and Wi-Fi; the third model would posses CDMA access and Wi-Fi connectivity.
Beyond connectivity, Apple is trying to reduce smudging and screen reflection on iPad 2.
Since the release of the iPad in 2010, Aiseesoft is paying great attention to its development and continuously developing amazing software, such as iPad Video Converter, iPad Converter Suite, etc. for iPad users.
Aiseesoft iPad Video Converter is another iPad Movie Converter to convert any general video and HD video to iPad video and audio files. Moreover, this iPad Video Converter also support iPod, iPhone, iPhone 4, so it is a great assistant to all your Apple portable devices.
If you are attracted by both converters above, you should pay close attention to this iPad Converter Suite, which is packed with DVD to iPad Converter, iPad Video Converter and iPad Transfer. Besides of the powerful DVD/video converting functions, this software package also provide users with iPad files transferring feature. It can transfer video, audio and photo files between iPad and your computer without any loss. Then you will have on worry about the file missing.
1 Comment