Posts Tagged 'Motorola Xoom'
March 4th, 2011
Posted in
Apple News
,
Industry News
On Tuesday, Steve Jobs has introduced the new iPad 2, which brings users some new features. Undoubtedly, the tablet industry will be highly competitive. Motorola has released the Xoom running Android Honeycomb. Which is better – the iPad 2 or the Xoom? Now I will compare the Apple iPad 2 and Motorola Xoom in details.
Hardware
The iPad 2 features a 1GHz dual-core A5 processor, and the Xoom has a 1GHz dual-core Nvidia Tegra 2 processor. All processors can meet regular needs. Though we have no idea of the iPad 2's RAM, rumors shows that the RAM of iPad 2 is 512MB, which is only half of the Xoom's 1GB RAM.
Apple provides users with three actual storages of iPad 2 – 16GB, 32GB, and 64GB. Xoom only get a 32GB of storage capacity. There is a MicroSD card slot on the device, which could support memory cards up to 32GB.
Screen
Though people believed that iPad 2 would feature an iPhone 4-style Retina display. With the arrival of iPad 2, we are disappointed that the iPad 2 features the same LED backlit 9.7-inch screen with a resolution of 1024 x 768.
The Xoom has a 10.1-inche screen with 1280 x 800 pixels. Also the Xoom's 16: 9 aspect ratio is better for watching HD-widescreen content.
Cameras
Both the iPad 2 and Xoom feature two cameras –one on the front and one on the back. Apple did not give us the specifics of its cameras, from which we can figure out that the cameras are not so powerful. The only thing we could know is that the iPad 2 rear camera can record 720p video.
While, Motorola Xoom has a competitive 2-megapixel front camera, a solid 5-megapixel rear camera, and a dual-LED flash.
Apps
Undoubtedly, iPad 2 have much more Apps than Xoom. The iPad has been out almost a full year, and there are roughly 65,000 apps designed for it. All these Apps can run perfectly on the new iPad 2.
While Motorola Xoom is the first tablet featuring Android Honeycomb, which is specified customized Android OS for tablet PC. And there are less than 100 tablet-specific apps, which is miserable compared with iPad 2 apps.
However, as time goes by, the Android tablet-specific apps will catch on rapidly, which has been proved on Android phones.
January 28th, 2011
Posted in
Apple News
,
Industry News
,
ipod software
,
Windows Software
Motorola Xoom released at CES 2011 attracts all attentions and interests. Also the coming iPad 2 is a star products attracting eyeball. Each rumor about iPad 2 can excite everyone's interest. Now let compare these two tablet computers.
The specifically designed Android 3.0 codenamed Honeycomb by Google the Xoom running on Honeycomb juice offers 10 hours of battery life which is similar to iPad though its screen resolution is higher at 1280×800 compared to iPad's 1024×798. DigiTimes reported that the upcoming iPad 2 will sport 2058×1536 in screen resolution. However, it is to be seen whether this will affect iPad 2's battery life.
The Xoom also sports a 1GHz dual-core Tegra 2 processor. Reports suggest that the Soc of iPad 2 will be A5, a dual-core Cortex-A9 chip design. Also iPad 2 will be employing the SGX543 graphics support.
Motorola Xoom provides users with a built-in barometer, accelerometer, magnetometer, ambient light sensor and gyroscope. While iPad 2 will come loaded with an accelerometer, gyroscope and proximity.
Xoom sports a 5MP rear-facing camera and a 2MP front facing camera. News reported that the iPad 2 will have a 1MP rear camera and 0.3 MP VGA front-facing camera.
Motorola Xoom comes without any buttons as it will allow the use of special gestures to control the tablet. The same as Xoom, rumors said that the iPad 2 will remove the Home button and have four and five finger gestures.
In order to help users fully enjoy the coming iPad 2, Aiseesoft is planning to release the DVD to iPad 2 Converter.
Aiseesoft DVD to iPad 2 Converter will be the best assistant to the coming iPad 2. It can help users fully enjoy their iPad 2. This DVD to iPad 2 Converter can rip any DVD to iPad 2 compatible video and audio formats with amazing converting speed. Also this DVD to iPad 2 Ripper can edit video effect. With it, you can easily cut off video segment, watermark video, adjust video brightness, saturation, contrast, and merge video clips.
This DVD to iPad 2 Converter will coming with the release of the iPad 2. Please be patient.
January 24th, 2011
Posted in
Industry News
,
Video Software
,
Windows Software
Though the CES 2011 has gone by, the exciting new products released at this CES still attracts everyone's attention. Among all fantastic electronic products, Motorola Xoom is the shining star. CNET.com named it the "Best of the CES" 2011. Motorola Xoom, the first tablet computer of Motorola, runs Android 3.0 Honeycomb. This Motorola Xoom owns a 10.1- inch display, a dual-core CPU, an Nvidia Tegra GPU, a 2 MP front-facing camera and a rear-facing 5 MP camera. Also it features a variety of sensors, including a gyroscope, a magnetometer, an accelerometer and a barometer.
The Android 3.0 Honeycomb is redesigned with new features include a new tablet-optimized UI, a 3D desktop purportedly taken from BumpTop, improved multitasking, Google Maps 5 in 3D and browser enhancements including tabs, form auto-fill and bookmark syncing.
Motorola Xoom will be available at Best Buy stores on February 17 for $699.99.
To freely enjoy the seeing and hearing experience of Motorola Xoom, users need the help of Aiseesoft Total Video Converter. This Total Video Converter enables users to convert any popular video files to other popular video formats. Also it can extract audio files from video. Besides of the basic converting feature, this Video Converter can also edit video effect. With it, you can conveniently cut off any video segment, crop video playing area, join video clips together, add watermark to video, etc.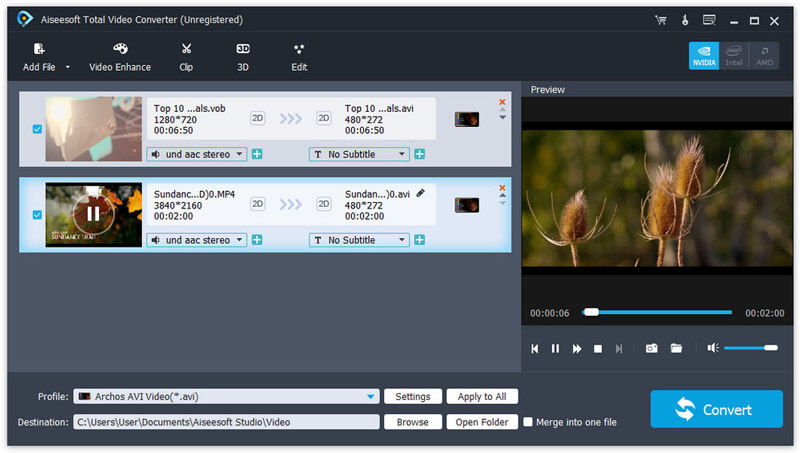 Beside of Motorola Xoom, this Total Video Converter also supports other popular portable devices, such as iPad, iPhone, iPod, Android phones, PSP, BlackBerry, etc.